Save time. Now, you can weigh, tag and check your own baggage.
The service allows you to weight and tag the baggage yourself. Then, simply stop by the Express Baggage delivery counter and board.
---
Veja como é simples e rápido:
Veja como é fácil todo o fluxo da Bagagem Expressa: da compra até a entrega da bagagem para embarque!
​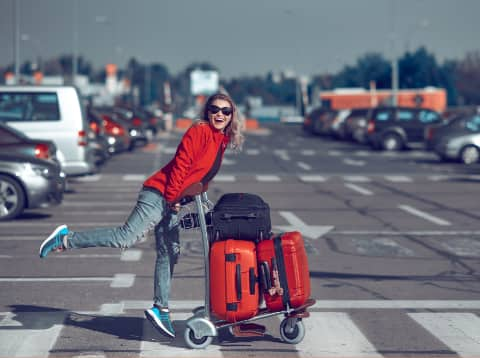 1 No totem de autoatendimento, escolha a opção "Check-in" e, para iniciá-lo, digite seu nome, sobrenome, número do CPF, código da reserva (localizador) ou número Smiles. Caso já tenha feito o check-in, selecione a opção "Despachar bagagem" no menu de "Outros serviços" e informe o seu localizador.

2 Antes de finalizar o check-in, o sistema vai perguntar se você deseja despachar a sua bagagem. Clique em "Sim" e coloque a mala na balança. Aguarde a pesagem. Caso você já tenha feito o check-in, o sistema solicitará a pesagem de imediato.

3 Caso a tarifa comprada já possua franquia de bagagem, não haverá cobrança adicional! Finalize o processo de pesagem, e caso tenha mais bagagens, repita o processo.

4 Se houver excesso de bagagem, o sistema informará o valor a ser pago e as bandeiras de cartões de crédito aceitas. Digite as informações do cartão e aguarde a confirmação do pagamento. Para clientes Smiles Diamante, Ouro e Prata, o sistema já considera a franquia adicional a que têm direito.

5  Aguarde a impressão das etiquetas para serem colocadas na bagagem. 
Retire o papel da etiqueta, conforme a instrução impressa, puxando de baixo para cima e garantindo que a proteção saia por completo.

6 Posicione e cole a etiqueta na alça de sua bagagem, de preferência no topo.

7 Retire um dos três adesivos da etiqueta e cole em um local de fácil aderência na bagagem, como plástico ou couro, evitando tecidos.                                    
Importante: guarde o recibo impresso junto com a etiqueta, pois é o seu comprovante de bagagem despachada.

8 Siga até o balcão do Bagagem Expressa e entregue sua mala para o funcionário GOL responsável.
Express Baggage is available for flights operated by GOL at the following Airports:
Galeão (GIG)
Guarulhos (GRU)
Santos Dumont (SDU)
Congonhas (CGH)
Brasília (BSB)
Porto Alegre (POA)
Recife (REC)
Fortaleza (FOR)
Curitiba (CWB)
Manaus (MAO)
Goiânia (GYN)
Foz do Iguaçu (IGU)
Maceió (MCZ)
Vitória (VIX)
Belém (BEL)
Florianópolis (FLN)
Navegantes (NVT)
São Luis (SLZ)
Salvador (SSA)
Natal (NAT)
Santiago (SCL)
Buenos Aires (AEP)
Ezeiza (EZE)
Córdoba (COR)
Montevidéu (MVD)
Mendoza (MDZ)
Assunção (ASU)