Ethics Channel
GOL encourages all its members and third parties to report their concerns, questions and suggestions to the Ethics Channel and prohibits any form of retaliation for reporting in good faith.
---
Hotline
Phone line dedicated to receiving confidential reports and inquiries: 0800 800 11 01
---
Through the Internet
Through the website:  www.eticanagol.com.br
Your report will be received by an external and independent company, which guarantees the integrity and absolute confidentiality of the reports.
All investigations carried out by the Ethics Channel are forwarded to the Ethics Committee for consideration.
---
Ethics Committee
The Committee is made up of five Directors of the Company and its main duties are to assess cases of violations of the Code of Ethics and deliberate on ethical doubts and dilemmas, as well as promoting the dissemination of the Code of Ethics in the company, ensuring the operation of communication channels, confidentiality of the reports received and the protection of the good faith reporter.
---
Governance and Compliance at GOL
The Corporate Risks Executive Board, Compliance and Internal Controls have a mission of stablishing corporate principles and patterns, supplying information which assist during the decision taking and contribute effectively for value preservation, through the adequate risk management and a sturdy system of internal controls. In other words, it is responsible for meeting and orientating other areas in the Company, especially those with bigger operational bias and those which present bigger risk.
GOL conducts its business always aligned with the best corporate governance practices, considering the highest national and international standards.
This way, in its activities, we based on the three lines of defence governance model. For the second line, the Company has many areas involved in the management, monitoring and support activities, through a single executive board for the areas of Corporate Risks, Compliance and Internal Controls.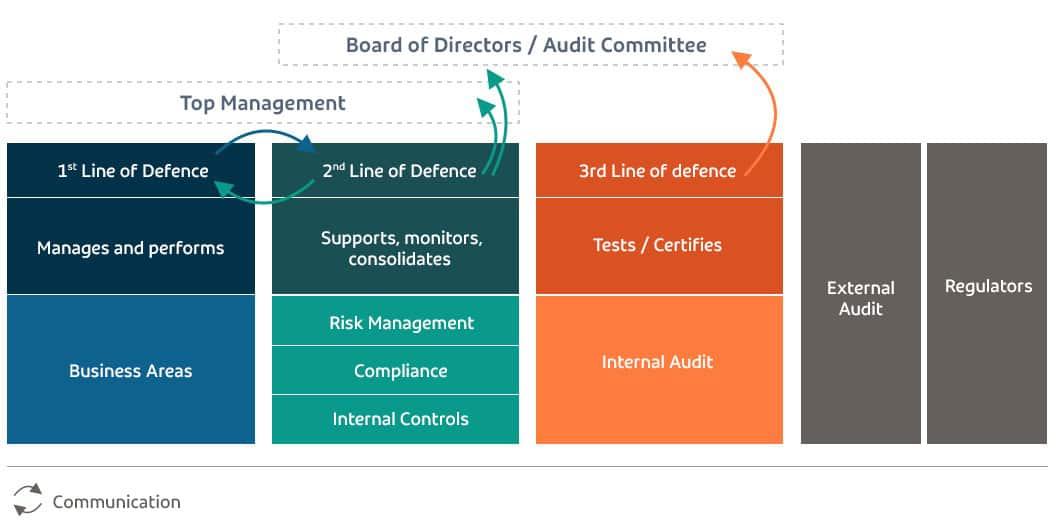 ---
The Right Path – Ethics and Compliance
The Right Path is a dynamic program, constantly in evolution and enhancement and based on the pillars below: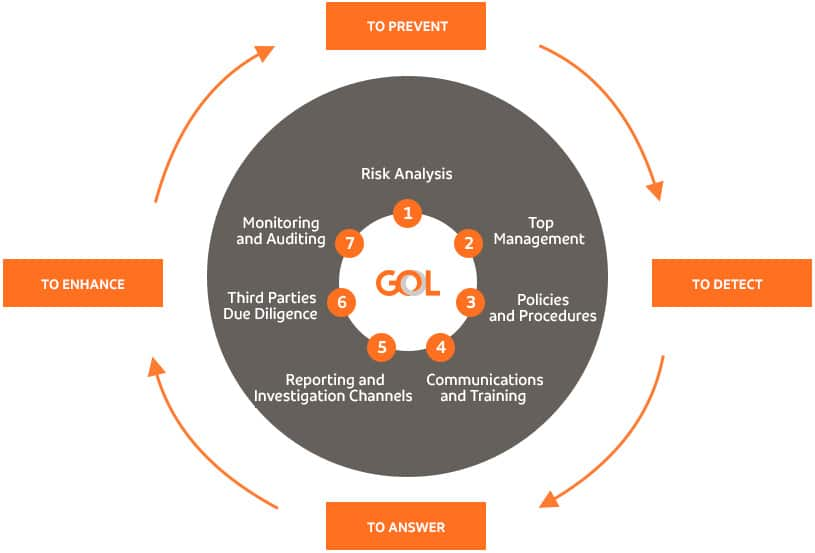 GOL's way of Being and Making is fostered by upstanding behaviour and ethical conduction. We believe that ethics must pervade all of our relationships and activities. Those attitudes and behaviours are the ones which us connect to the purpose of Being the First for All. In this sense, the Company is committed with the Anti-Corruption Law which is applicable to it, and it adopted The Right Path – Ethics and Compliance program, which seeks to foster an integrity culture as well as to prevent, mitigate and answer to risks of corruption and other internal risks which does not match our Value.
---
The Compliance Area
Independent Compliance, composed by qualified professionals, dedicated exclusively to the coordination, development and enhancement of the Program, which is implanted and developed daily by every area in the Company. Aiming to secure the necessary independence and autonomy, the Compliance area Board answers directly to the CEO, having direct access to the Statutory Audit Committee and the Administrative Council.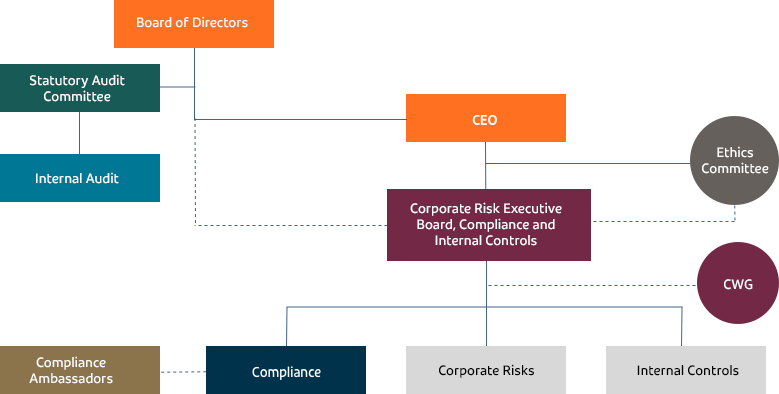 ---
About the Compliance Working Group (Compliance Committee)
The Compliance Working Group (CWG) has a goal to support the area in the discussion of the themes which require a multidisciplinary vision, in addition to developing actions and policies which seek to follow the Company's business and activities evolution, as well as the sharing of this construction aligned with the company's culture. This CWG is coordinated by the Corporate Risks Executive Board, Compliance and Internal Controls and counts with the participation of the Directors from the areas of People and Culture, Internal Audit, Legal and Controllership.
---
About the Compliance Ambassadors
GOL's Compliance Ambassadors program is part of the strategy to disseminate Compliance's themes and guidelines, as well as approaching this area to the others. These Ambassadors are selected employees according to their job position in their acting areas.
The main functions of the Ambassadors are: identify and report risks and other important matters to the Compliance area, assist in the development and training implantation of their respective areas, raise suggestions from the employees about the Compliance initiatives, besides support in the dissemination of the Company's integrity culture.
To empower them, regular trainings are made, conducted by the Compliance team, focusing on transmitting the necessary knowledge, so they will be able identify their areas' necessities, besides guiding other workers regarding simple matters. This way, after the trainings are made, the knowledge dissemination in their respective areas is also their responsibility, who under the guidance of the Compliance area, carry out workshops for their colleagues, joining the concept presented to practical matters on their daily routine. 
---
Policies and procedures
GOL, in its relations, based itself on principles which sustain an organizational culture focused on people's appreciation, performance guided by compliance with our procedures and internal regulations and by the permanent search for development. In relation to the Compliance internal guidelines, the Company set its performance expectations on clear internal policies and procedures and shares them for the knowledge of all of those to whom they are addressed.
---
Code of Ethics
We have an overreaching Code of Ethics, which seeks to supply guidance about the subjects related to the Ethics and Values which conducts the Company's activities. This code is applicable to all members of the Company, that is, both employees at any hierarchical levels and members of the Statutory Committees, of the Fiscal Council, of the Board of Directors and, to its shareholders, in the exercise of their functions or attributions.
---
Conduct Guidelines for Third Parties
GOL prioritizes the relation with third parties who conducts their activities according to ethical principles similar to its own. 
This way, all third parties must follow the Conduct Guidelines for Third Parties during their relationship with the Company.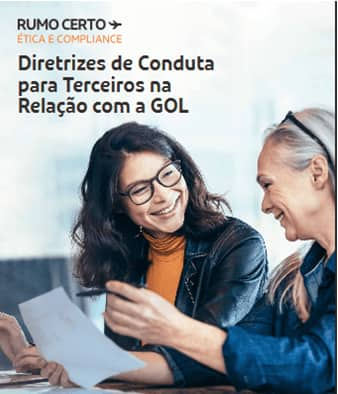 ---
Anti-Corruption Guidelines
We are strongly against corruption in all its forms, and we seek to secure to highest level of integrity and ethics in all activities. To clarify its commitments, concepts and main risks related, GOL has an Anti-Corruption Policy, besides other policies related to that, such as Giveaways, Gifts and Hospitalities Policy and Sponsorships and Donations Policy, among others.
In its Anti-Corruption Policy, the company reiterates the prohibition of bribes and other harmful acts to the Public Administration, such as causing damage to the competitive character of any bidding procedure, obstruct or make investigations or inspections of Public Agents difficult or use third parties to hide their real interests in relation to public agencies.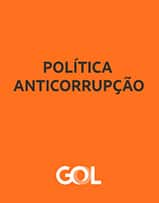 ---
Interaction with Public Agents Policy
GOL maintains the highest integrity and transparency level in relation to representatives of Public Agencies. This way, to guide our member in their relations with this type of professionals, we have an Interaction with Public Agents Policy.
---
Giveaways, Gifts and Hospitality Policy
GOL's Giveaways, Gifts and Hospitality Policy ("courtesies") aims to define the conditions for the offering/receiving of courtesies in the context of their commercial relationships, explaining concepts, defining limits, warning for attention points and giving practical examples.
Courtesies can be offered/received in the context of business relationships, observing GOL's internal policies and procedures and provided they are not, or appear to be, undue advantages.
In a general way, GOL's member can receive gifts, present or hospitalities when those courtesies:
Do not appear or are intended to influence whoever receives the Courtesy, that is, they may appear to be an exchange of favors;
Are not excessive in value, for example, in excess of 1/3 of the minimum wage;
Are not offered constantly;
Is not cash or other means easily convertible into cash;
Are not, or appear to be inappropriate.
---
Donations and Sponsorship Policies
Sponsorships and donations are supports conceded by the Company to initiatives with GOL identifies itself. For these supports to be offered transparently and for them to achieve their purposed goals, this policy clearly defines the necessary guidelines and necessary cares to conceding this kind of supports to third parties. We do not make party political donations and we do not allow any third party to make donations on GOL's behalf.
---
Conflicts of Interests
GOL conducts its activities in a transparent, safe and responsible manner, free from conflicts of interest and in a manner consistent with its Values.
In the Conflicts of Interests Policy, the guidelines to avoid Conflict of Interests situations are defined, that is, the situations in which the particular interests of the individual or someone related to him or her may overlap the Company's interests. In this context, it is hoped that both the Member and any other third party from GOL report any potential conflict situation that they identify, for these situations to be re-evaluated and the related risks mitigated.
---
Transactions with Related Parties
We believe in a transparent and fair market, that is why we have a Transaction with Related Party Policy, which seeks to give transparency to this type of transactions. Related Parties are people or institutions in which the Company has a determined relation that allows them to negotiate in conditions that are not of independence, as the other partners negotiate, due, for example, to their corporate relationships.
To support this goal, GOL request that its suppliers, business partners or other third parties, inform if they become aware of being a Related Party of GOL, prior to entering into the business relationship.
---
Third Parties Evaluation
As it prefers to interact with third parties that conduct their activities in accordance with ethical principles similar to its own, GOL conducts a prior analysis (Due Diligence) of its potential suppliers, representatives, business partners and other counterparties with which it does business.
This procedure is carried out through research and analysis of information and documents that aim to identify risks related to issues of corruption and ethical-reputation, arising from the execution of contracts, partnerships or other types of associations.
---
Training and language
For us, valuing people, the rules and regulations compliance and the permanent search for development are pivotal. That is why GOL invests in education and actions which empower the principles of our Culture.
Our Integrity Culture is the driving force of our actions and must guide all of our attitudes. The awareness of all Company Members about compliance themes is the key for maintaining the development of this Culture. The regular content is developed to help with the familiarization of our members with the Compliance themes. This Trainings and Communications seek to reach all GOL Member, and in this context, we conduct the trainings for all, regardless of the job position, including member of the Board.
 
---
Training
With the launching of The Right Path Program – Ethics and Compliance in 2018, GOL developed a series of videos destined to all the member, so everyone in our Company can be aligned with which paths to choose so they can contribute to our Integrity Culture.
The videos are divided by themes and through a simple narrative, they approach themes related to Compliance, provoking reflexions about how we must ask in our work relationships and also in society. The online training is also available in all countries we act, in Portuguese, Spanish and English. Besides the online training, the area carries out face-to-face meetings, both from requests from the areas and from the identification of more exposed areas or sensitive processes for Compliance. In these cases, the presentations are made by the Members of the Compliance Area in practical and interactives approaches as a workshop, allowing the exchange with the involved areas and questions clarifying, in addition to bringing those involved closer together.
 
---
Communication
Our communications aim to reinforce relevant information, keep Compliance issues present in the day-to-day of Members and translate our Policies into practical examples, so that everyone can identify risk situations in our daily operations and know how to act. They are held regularly and cover a variety of topics, for example, according to the launch of new policies, updating of procedures or identification of topics in which Members have doubts.
---