A novelty for you to read in the armchair at home
Although, so far, there have been no cases of transmission of the coronavirus, which causes COVID-19, through newspapers or printed magazines, we, always committed to Safety — our #1 value — have made some adjustments to our journal. After all, how can I stop having access to GOL Magazine's contents for so long?
This is the digital version for the months of June/July, where you will find the same content that addresses important issues in society. This month, there will be a reduced number of searches on our aircraft.
In all of them, we inserted a stamp whose content suggests that people, when handling the issue, take it home with them. Enjoy the experience and enjoy reading!
---
With you, GOL Magazine
Faced with the challenge of remaining interesting in terms of audiovisual content and the internet, Revista GOL goes beyond its function as a print: it is the main expression channel for the brand. The publication's graphic design and editorial content reflect a careful look at time and the changes that define it. From there, monthly addresses important topics for Brazilian society — and for the world.

The relevance of GOL Magazine is recognized by prestigious awards, such as PROPMARK, which elected it the best customized magazine in 2015, 2018 and 2019. It also received the most important award for branded content in the world, the Pearl Awards 2017, in the category " Best Print Magazine (Design) B2B".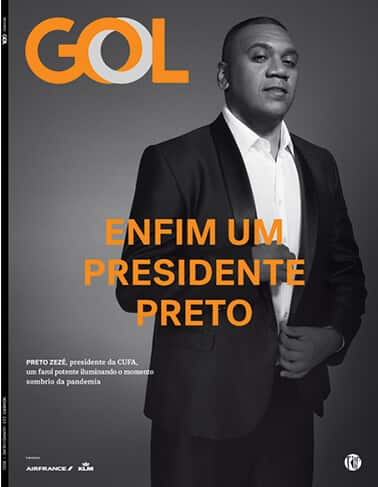 What are the articles of this month
Read the latest editions below: